PLYMOUTH Roadrunner 383 V8 Body Off Restored (1970)
uitverkocht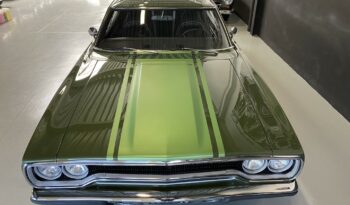 | | |
| --- | --- |
| Provincie | Noord-Brabant (NL) |
We, at Legendary Classics, are always proud of the cars that we take into our collection. With this 1970 Plymouth Roadrunner the level is yet again a few levels higher than any other classic car.
This Roadrunner car was completely undertaken and overhauled with the highest level of restauration by the well-known firm Pro Speed Engineering. Pro Speed Engineering is notorious for the restorations that they undertake and this Roadrunner certainly is no exception. The attention to detail is superior and precise. All the work has been done with the originality kept in mind, no updates were made that would change the cars originality.
The engine was entirely dismantled and all parts were overhauled or if unsavable they were replaced.
The original "BEEP-BEEP" Roadrunner trademark horn has been kept to give that extra fun touch that a Roadrunner afficionado would love and appreciate.
The VIN number breakdown is as follows:
R-Identification of brand
M – Medium Class
23 – 2 door Hardtop Coupe
N – Engine type 383 CID Hi- perf. V8
O – Year 1970
E – Production location Los Angeles, CA
129650 -production sequence number

The Plymouth Road Runner is a mid-size car with a focus on performance built in the United States between 1968 and 1980. By 1968, some of the original muscle cars were moving away from their roots as relatively cheap, fast cars as they gained features and increased in price. Plymouth developed the Road Runner to market a lower priced, basic trim model to its upscale GTX.

Plymouth paid $50,000 to Warner Bros.-Seven Arts to use the Road Runner name and likeness from their Wile E. Coyote and the Road Runner cartoons (as well as a "beep- beep" horn, which Plymouth paid $10,000 to develop). The Road Runner was based on the Chrysler B platform (the same as the Belvedere and Satellite), as a back-to-basics mid-size performance car.

The 1970 model year has a redesigned front and rear end looks in comparison to the 1968 body. The updates on the 1970 model included a new grille, a cloth & vinyl bench seat, hood, front fenders, quarter panels, single-piston Kelsey-Hayes disc brakes and even non-functional scoops in the rear quarters.
The design and functionality of the Air Grabber option was changed. A switch below the dash actuated a vacuum servo to slowly raise the forward-facing scoop, exposing shark-like teeth on either side. "High Impact" colors, with names like In-Violet, Moulin Rouge, and Vitamin C, were options available for that year.
The engine lineup was left unchanged although a heavy-duty three-speed manual became the standard transmission, relegating the four-speed to the option list along with the Torque Flite automatic. The new high-back bucket seats shared with other Chrysler products which featured built-in headrests.
Sales of the 1970 Road Runner dropped by more than 50 percent over the previous year to around 41,000.
The declining sales of Road Runner and other muscle cars were the result of a move by insurance companies to add surcharges for muscle car policies - making insurance premiums for high-performance vehicles a very expensive proposition.
We have an extensive file on the restoration process indicating the highest level of craftmanship of this exquisite built.
We welcome any enthusiast that would be interested in this amazing Roadrunner


Call 0031623679846 for more information.
We ship to any location in the world. Ask our partner FreightHammer for a free shipping quote! (http://www.freighthammer.com/)

Wir sprechen Deutsch, We speak English, Nous parlons Français, Wij spreken Nederlands.